You will need
2 Warburtons Muffins, sliced in half and toasted
4 medium free-range eggs
Butter for spreading
4 slices of ham
4 tablespoons ready-made hollandaise sauce
1 tsp each of sunflower and pumpkin seeds, lightly toasted
1 tsp golden linseeds
A handful of chopped chives
Salt and ground black pepper
Make with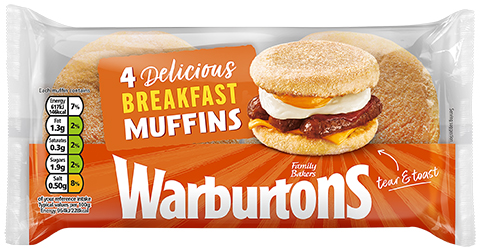 Make it
10 minutes | Serves 2
Heat a deep pan of water over a low heat until just simmering and add the vinegar.
Crack an egg into a small cup and gently pour into the pan. Cook the egg for 2-3 minutes for soft poached or until cooked to your liking. Remove with a slotted spoon and drain.
Heat a separate pan of water, and bring to a simmer. Spoon the hollandaise sauce into a glass bowl and place this on top of the pan. Stir until the sauce is warm to the touch and has a looser consistency.
Meanwhile, toast the Warburtons muffins slices and lightly spread with butter. Top each with a slice of ham, a poached egg and a drizzle of hollandaise sauce. Finish with a sprinkling of seeds, the chopped chives and a little salt and ground black pepper.
Enjoy the results of this delicious breakfast recipe. We're sure it will be eggcellent!