Lisa Goodwin-Allen, Executive Chef at Michelin starred Northcote and star of Great British Menu has given Warburtons Toastie loaf the ultimate Northcote treatment
Lisa Goodwin-Allen, Executive Chef at Michelin starred Northcote and star of Great British Menu has given our Toastie loaf the ultimate Northcote treatment in her new dish 'Warburtons Toastie', available on the menu from today.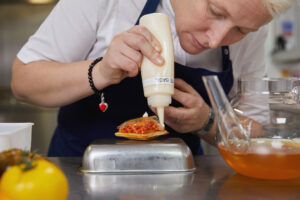 Known for her nostalgic dishes and delicious seasonal flavour combinations, the TV chef's exclusive toastie is inspired by her favourite comfort meal, tomatoes and cheese on toast, a dish she's elevated for this collaboration .
This perfect Autumn comfort food has been elevated to Michelin standards by Lisa, and features our Toastie loaf, Black Cow deluxe cheddar cheese, unique juicy plump Isle of Wight tomatoes, basil oil, tomato jelly, basil mayonnaise, finished with a tomato consommé. The one-of-a-kind cheese toastie will be available on Northcote's menus exclusively from today, and if you can't make to the restaurant, Lisa has adapted recipe for everyone to make at home.
Lisa Goodwin-Allen said: "The inspiration for this amazing dish came from my own favourite guilty pleasure – tinned tomatoes and cheese on Warburtons Toastie loaf! There is nothing better when you want something comforting, quick and delicious than a toastie and this dish is a decadent version of this great classic comfort food, elevated using the very best quality ingredients. The make at home version is equally delicious, and uses ingredients anyone can get from a supermarket meaning they can elevate their own toasties with ease.'
 Jonathan Warburton, Chairman of Warburtons, said, "We pride ourselves on making the best quality products, and what better recognition that we're doing things right than to have Britain's favourite loaf featured on a Michelin Star menu! Lisa has created a stunning dish that takes this simple British classic comfort food to a new level. I am really pleased she has created a make at home version too, so that everyone can try a little Northcote luxury from their own homes – we will most definitely be giving it a try!"
Enjoy this special dish for a limited time on Northcote's menu – Isle of Wight Tomatoes, Black Cow Cheddar, Basil – "Warburtons Toastie"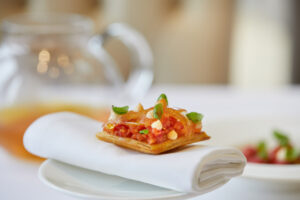 To book a table at Northcote visit www.northcote.com – Toastie lovers will need to hurry!
Foodies can also recreate the dish at home using Lisa's simplified recipe so that anyone can experience the full Northcote treatment from the comfort of their own dining room.