Our new ad, 'Mad About The Bread', with Samuel L. Jackson in starring role
We are excited to have launched our latest TV advert, Mad About The Bread, featuring legendary Hollywood actor Samuel L. Jackson (SLJ) in the starring role.
Mad About The Bread is the latest addition to our line up of storytelling adverts, which have previously featured celebs including George Clooney, Robert De Niro and Sylvester Stallone.
The ad celebrates our dedication to making the best quality loaf and opens in Bolton as Samuel L. Jackson is seen taking over the office of Jonathan Warburton. Dressed in Jonathan's office attire of blue shirt and orange tie, SLJ grins as he turns to camera and delivers the opening line: "Hi, I'm Jonathan Warburton, chairman of the UK's largest family bakery."
SLJ shares a social post in which bread lover, Steve, questions the similarity of Warburtons' much loved Toastie loaf with other shelf contenders. This prompts SLJ to demand: "What gives?! What gives tweety pie is me – Jonathan Warburton. I GIVE! And hell hath no fury like a baker scorned, Steve."
A montage then follows of 'Jonathan' furiously recalling the effort that goes into making the perfect Toastie loaf, 'packed full of the bakery's unique blend of wheat and 147 years of baking expertise'. SLJ also appears on the doorstep of 'Steve's' parents' house at breakfast time, swapping out their 'Warburtons wannabe' toast for the real deal of the superior Warburtons Toastie.

There are glimpses of the lengths we go to make the perfect loaf as SLJ is seen testing for softness, butter-ability and bounce-back-ability. He then pops up at the bakery as the perfect Toastie loaf is pictured in its full glory, before he finally knocks the door down of Jonathan's office, to be met with the real Jonathan Warburton who agrees with SLJ as he comments: "I couldn't have said it better myself".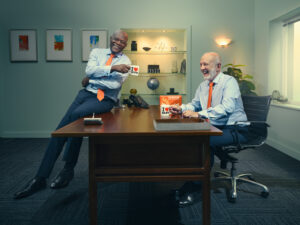 Samuel L. Jackson said, "It was a pleasure to meet the man at the helm of Britain's biggest family bakery. And what an honour to follow in the footsteps of 'Bolton alumni', George Clooney and Robert DeNiro. We had a lot of fun on set so I hope people enjoy the finished product – the ad AND Toastie Loaf!"
Jonathan Warburton, Chairman of Warburtons, said, "At Warburtons, we pride ourselves on the care that goes into making sure that every single loaf is as fresh and high quality as possible. Quality is truly at the heart of our 145-year-old business, and this new ad is a real celebration of that passion. Inviting the big-screen hero of Samuel L. Jackson into the business was a uniquely memorable experience, and we hope to bring some light-hearted humour to viewers at home – while reminding the nation that our Toastie truly offers our customers the best of the best."
Billy Faithfull, Executive Creative Director, Joyful Triumphant, commented, "Spending time with the family talking about quality, you realise doing things properly is a family trait, bred (or baked?) into the current leadership. Take your baking seriously, but never yourselves said Jonathan's father, Derek. So we figured a less than serious way to bring to life the Warburtons maxim was to cast Hollywood's most serious monologist Samuel L. Jackson. We hope people will think twice before questioning the unique quality of a Warburtons Toastie Loaf, at least for the next generation or two."
The new ad is now live on social media, and will air on UK TV from Friday 22nd  September. View the full ad and read more about the campaign here.