Our new study reveals that nearly half of kids (47%) think they NEVER eat vegetables – yet 22 per cent of parents hide them in EVERY meal.
The study of 1,000 parents and their children aged between 6 and 11 discovered the most successful hacks mum and dads use – including chores before rewards, no sweet foods until they've eaten their savoury and grating vegetables into meals. This appears to be working, with a quarter of parents managing to sneak broccoli into meals despite 31 per cent of kids claiming to despise it.
The research was commissioned by us to celebrate the launch of our new Half White Half Wholemeal range – with fortified Vitamin D and Calcium, giving parents one more 'hack' up their sleeve.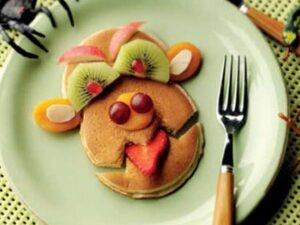 Amongst other popular parenting tactics are freezing fruits or fruit juices to make ice lollies and sorbets, letting their youngster choose dinner, pudding or something in the food shop and rewarding them with screen time.
What's more, almost one in five UK parents (18%) have said that sandwiches are one of the easiest meal options when sneaking healthier foods into their children's diets whilst spaghetti bolognese and stews top the charts.
Trained and practising physician and resident ITV doctor, Doctor Zoe Williams, who has partnered with us for the study said:
"Nothing can fully prepare you for parenting – no matter how many books you read or classes you attend. But there are clever ways to get by as, let's face it, it's not the easiest job and getting kids to bed on time, and getting them to tidy their room, eat their vegetables and ensuring they get the nutrients they need can feel like a constant battle.
Our recent findings just goes to show how much mums and dads rely on little 'shortcuts' to help their little ones. Vitamin D and calcium are both hugely important for children, and help to ensure they grow to have strong bones. Having them included in a product that children know and love, as well as the additional benefits from fibre that you get from eating wholemeal bread, makes the Half and Half range really appealing for parents."
The study also found more than half of parents use these tricks to make their life easier, while 46 per cent use them to teach their youngsters good life lessons. And a third use strategies in a bid to make sure their youngsters get the right nutrients in their diet and eat healthy food.
In fact, 24 per cent of doting mums and dads worry their child doesn't get enough calcium in their diet, and 33 per cent fret they don't get enough Vitamin D.
As a result, mums and dads will turn to 'hacks' an average of six times a week – as three in 10 say they struggle to get kids to eat their veggies, and 26 per cent will battle with little ones to get them to eat a balanced diet.
The research also polled children who reckon they get the equivalent of less than three portions of fruit and veg a day. When asked what foods are 'healthy', one in four kids thought carrot cake counted as a nutritious option, while three in 10 believe banana bread to be wholesome. Nearly a fifth believe blueberry muffins are good for you, and 26 per cent see oat and raisin cookies as a healthy option.
The research found parents reckon their little ones are most receptive to these tricks at the tender age of five. As many as 96 per cent find these hacks to be generally successful, and 51 per cent even use tactics that their own parents used on them. Today's parents are twice as likely to learn any one of these clever strategies from their mum than their dad. More than a fifth even learn them from their partner and three in 10 will pick them up after learning them from a friend.
Jill Charlton, Head of Nutrition at Warburtons, added:
"It's really interesting to see how parents sneak veggies into dinners, with kids none the wiser I did the same with my three children! It also raises a smile to see that youngsters will consider traditionally unhealthy foods as relatively good for them because it includes a fruit or vegetable– such as carrot cake.
The inspiration behind our Half White Half Wholemeal range is to give parents a helping hand in providing their kids with a balanced diet and making it easy get a third of their daily intake of vitamin D and calcium."
DR ZOE'S TOP TIPS
FUN, FUN, FUN
One of the very best ways to get children to increase their consumption of healthier foods is to make it fun. E.g. making faces on plates out of vegetables, putting fruit onto skewers or having a build your own sandwich station.
ADDING FIBRE
Adding fibre is great for health and keeps young tummies fuller for longer, meaning that children are less likely to want to snack between meals! Sandwiches are a great way to double up – with fibre from the bread and adding crunchy veggies such as grated carrot, beetroot and sliced peppers.
DRINK COW'S MILK
Unless there is a good reason, children should have cow's milk rather than trendy plant-based milks. Cow's milk contains protein, carbohydrate, fat, vitamins and minerals.
FORTIFIED FOODS
Look out for staple kitchen items that have been fortified with extra vitamins and minerals, as this is a way to ensure that your family is getting more nutrients, without any additional effort. Bread, milk, and breakfast cereals are examples of foods that are sometimes fortified with additional nutrients such as calcium, vitamin D and fibre. Warburtons half and half range of bread products is a perfect example – made with half white flour and half wholemeal flour it is a source of fibre and is also fortified with calcium for strong bones and teeth as well as vitamin D.
BLENDER
Blending vegetables then hiding them in meals is a great way to ensure your children hit their five a day target. But it's a good idea to have some of the chopped veggies on offer too, as a way of exposing your children to the sight and smell of a wide variety of fruit and vegetables.
LET THEM BE IN CHARGE
It's not possible at every mealtime, but occasionally giving children choice, either to decide what's for dinner or to 'build their own' pizzas, sandwiches or fajitas. Having a range of ingredients to choose from gives children options and lets them feel like they're in the driving seat.
TAKE THE STRESS OUT OF MEALTIMES
You can take a lot of the stress out of meal time by following two simple rules. Firstly it is the parent or carer's choice WHEN food is offered and WHAT TYPES of food are offered. But importantly it is the child's choice what they choose to eat and how much of it they eat.
REWARDS
Rewarding good behaviours reinforces them psychologically. Rewards do not need to be big or expensive, a hug and praise can actually go a very long way. Using sticker boards or marble jars allow parents to give small rewards frequently and children can work towards a larger reward, such as a day out.
EATING THE RAINBOW
A fun way to help children increase the amount and variety of fruits and vegetables that they're eating is to create a rainbow chart. Ask children to come up with fruits and vegetables for all the different colours in the rainbow, and set the challenge for the whole family to try to eat the whole rainbow every week.
Resource; https://drchatterjee.com/wp-content/uploads/2017/12/Rainbow-Chart.pdf
GROW YOUR OWN
If a child watches a fruit, vegetable or herb grow from a seed then they will almost definitely enjoy eating the final product. Gardens are ideal, but of course we don't all have one. Vegepods are perfect if you have any outdoor space but actually all you really need is a few washed out tubs, tins or plant pots and you can start growing on your window ledges.