Warburtons Crumpets star in the second instalment of Anya Hindmarch's famous ice cream project
This summer, The Ice Cream Project by Anya Hindmarch returns for its second, highly anticipated season in the Anya Village – but this time there's a hole-y new kid on the block!
The Ice Cream Project is a celebration of the unexpectedly delicious, taking inspiration from beloved household names traditionally found in kitchen cupboards up and down the country.
We're delighted to be joining the line up with our utterly, butterly delicious Warburtons Crumpet Ice Cream, with notes of vanilla, toasted crumpets and lashings of butter for fans to enjoy a cool crumpet experience.
All hand made in small batches in Devon, each original recipe is created with the very best ingredients – head down to the Anya Village in London to purchase this limited-edition delight.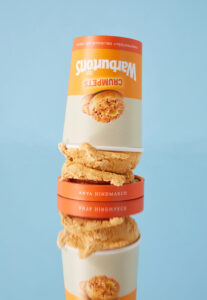 THE FLAVOUR LINE-UP
WARBURTONS CRUMPETS
Packed full with melt-in-your-mouth toasted crumpet and notes of butter
BIRDS EYE PETITS POIS
Smooth and refreshing with the natural sweetness of specially selected peas
BLUE DRAGON ORIGINAL SWEET CHILLI
Rich, creamy vanilla with the sticky sweet tang of chilli and a touch of heat
BRANSTON
Mellow cheddar cheese with the 'chunky, crunchy bite' of Branston
HEINZ TOMATO KETCHUP
The unmistakable taste of sun-ripened tomatoes with the perfect combination of sweet, salty and tangy flavours
KELLOGG'S COCO POPS
Milk chocolate with the crunch of chocolate flavoured toasted rice
KELLOGG'S RICE KRISPIES
Rich creamy milk with toasted rice
KIKKOMAN SOY SAUCE
Toasted sesame laced with umami-rich naturally brewed soy sauce
KP ORIGINAL SALTED PEANUTS
The great taste and crunch of KP salted peanuts with the rich, roasted flavour of peanut butter
MALDON SALT
Rich dark chocolate elevated with Maldon sea salt flakes and dark chocolate shavings
MCVITIE'S DIGESTIVES
Blended with the 'classic sweet and salty crunch' of the original digestive biscuit
TIPTREE LEMON CURD
Deep and creamy with the distinctive sweet and tart zing of finest Sicilian lemon curd
RIBENA
The unmistakably delicious taste of juicy blackcurrants, bursting with berryness
Hand-made in small batches in Devon, each flavour is available by the scoop or in 500ml tubs to take away.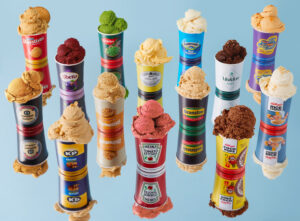 PRICES
500ml tubs – £15 Scoops from £3.50
OPENING HOURS
Monday – Saturday 10am – 6pm Sunday 12pm – 5pm
Please be prepared for queues at peak times.
ADDRESS
The Village Hall, 11 Pont Street, London SW1X 9EJ
You can read more in the news from The Mirror, Time Out, The Times, and more!