Children at Highbury Primary School, Portsmouth are learning about the world of farming
Children at Highbury Primary School, Portsmouth have been learning about the world of farming with us and educational charity, The Country Trust through our 'Discover Warburtons Wheat Farm in a Box' initiative.
With the aim of providing meaningful, hands-on learning experiences, Farm in a Box introduced the children to the story of wheat from seed to bread while also giving opportunities for them to connect with their environment and the food they eat.
Working with The Country Trust since 2017, we have been committed to creating memorable experiences that help children make connections between their world and the farmers' world, as well as helping teachers feel more confident and equipped to include food and farming in their teaching.
Designed for EYFS, KS1 and KS2, the 200 boxes were ordered by schools across the country and included nine, ready out-of-the-box activities which covered themes such as weather, soil health, seeds to food and bread tasting.
Mrs Fuller, Teacher at Highbury Primary School in Portsmouth, said: "We are thrilled to be able to offer these activities to our students and provide them with the additional food education they need. Some of our pupils will not have had the opportunity to visit farms, so we're grateful to Warburtons and The Country Trust to offer these resources and allow us to bring as much of the farm experience into the classroom as we can!" 
Jonathan Warburton, Chairman of Warburtons, said: "Prior to the pandemic, we worked with The Country Trust to host farm visits but as they were put on hold, we wanted to continue to support schools and the Farm in a Box enabled us to do that.
"We recently launched the Warburtons Foundation and as a family business, education is key focus and as we received such positive feedback on the boxes, I am thrilled that we are now able to offer both opportunities to schools".
The Warburtons Foundation is committed to helping organisations in local areas throughout the UK through product donations, education programmes, and financial giving, and has pledged to donate one million fresh products nationally to schools, foodbanks and community groups by the end of the year.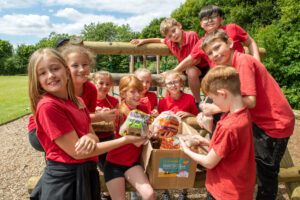 Image credit: Children from Highbury Primary, Portsmouth pictured unboxing their Warburtons 'Farm in a Box', an initiative in partnership with The Country Trust to help provide additional food education to UK schools.