The UK's number one wrapped bakery brand* launches new flatbread buns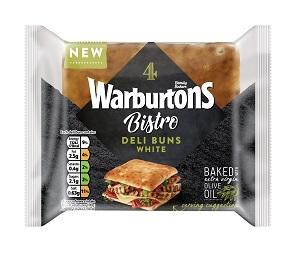 Warburtons – the UK's number one bakery brand*  – has expanded its range of Sandwich Solutions with the launch of their Bistro Deli Buns.
The new Bistro Deli Buns are soft and tasty flatbread buns, and are available in two delicious flavours: White and Malted Grains & Seeds.
Building on Warburtons' popular existing sandwich solutions range, the new Bistro Deli Buns offer shoppers a more delicious and luxurious way to make a satisfying sandwich, as they are baked with premium ingredients, including extra virgin olive oil, grains, seeds and honey.
They are golden baked with an open texture, pre-sliced for convenience and are perfect for time-pressured consumers looking for a quick and delicious meal that can be enjoyed at home or on the go.
Warburtons are already pioneers in the sandwich solutions category and were the first to market with both Warburtons Sandwich Thins in 2011 and Toastie Pockets in 2017, responding to the ongoing consumer demand for choice and versatility within the bakery aisles.
Darren Littler, Innovations and Product Marketing Director at Warburtons said: 
"As bakery innovators with more than 140 years' experience, we're always looking to develop new products that meet changing consumer needs. That's why we're delighted to expand our popular portfolio of Sandwich Solutions with the launch of Bistro Deli Buns, a delicious alternative to the sandwich that can be enjoyed by time-poor consumers hot or cold, at home or on-the-go."
The launch of the Bistro Deli buns will be supported with in-store marketing activity which will be visible in Asda and Morrisons as well as Ocado online.
The Bistro Deli Buns will be available from the 5th April in Asda and then will be rolling out to Morrisons from the 9th April, and subsequently to Sainsbury's, Co-op and Ocado.
*The Nielsen Company, Total Coverage, Unit Sales, 52 w/e 24.02.18