Sees Robert De Niro in the starring role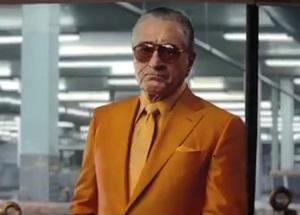 Warburtons, the UK's largest bakery brand1 brings the gangster world to life in its newest campaign, GoodBagels, which features the legendary Robert De Niro in the starring role.
Watch our new advert here
The ad launches on social channels on 14th May and then premieres on TV on 17th May. The 120 second advert features the ultimate mafia drama with all the best ingredients — as Robert De Niro and his family of goons strive to become the new bagel bosses of Bolton.
The TV ad has all the ingredients of a mafia drama. After hearing that Warburtons is rising to the top of the bagels business, De Niro and his goons head over from New York to confront the good fella Jonathan Warburton.
Bursting into his office, they paint a picture of a world where De Niro passes off the new Warburtons bagels as his own. In a series of quick edits, De Niro and his team are seen taping up a security guard in order to steal the bagels and fill supermarket shelves with the newly labelled 'GoodBagels'.
Quickly cutting back to the office scene, Jonathan Warburton mistakes this threat as storytelling for a new film, similar to the pitches made in previous commercials by Sylvester Stallone, Peter Kay, and of course The Muppets. Asking 'how does it end?' De Niro responds in his typical sinister style, 'not well'.
The latest campaign follows in the footsteps of Warburtons' previous star-studded adverts – The Deliverers featuring Sylvester Stallone, The Giant Crumpet Show featuring the Muppets and Pride and Breadjudice featuring Peter Kay – which signalled Warburtons' innovative approach to advertising and new product development within the bakery sector.
The new advert was developed by ENGINE and freuds. It was directed by Declan Lowney at Another Picture Company. Mindshare has planned a fully integrated media approach that will see the campaign roll out in social, wider digital, TV and OOH.
Jonathan Warburton, Chairman of Warburtons, said: 
"As an iconic New Yorker, Robert De Niro knows his way around a bagel so it's great to have his seal of approval. We've spent months perfecting the recipe and process to ensure we delight families up and down the country with the best thing since sliced bread!"
Billy Faithfull, Executive Creative Director, ENGINE, said: 
"For as long as I can remember, I've always wanted to do an integrated marketing campaign starring an Oscar-winning mobster, a bagel and a fifth-generation family-owned bakery brand. The bar is set so ludicrously high, that a Warbies brief brings out something special in every person involved. From clients, agencies and production team, everyone puts their hearts and souls into it. Is the juice worth the squeeze? Fugeddaboutit! That means yes."
In the UK, bagels are currently the second largest sector in Sandwich Alternatives market and show no signs of stopping, holding 21.7% of unit sales2. Warburtons' brand new bagels will be available in two SKUs; Plain and Cinnamon & Raisin.
1. The Nielsen Company, Unit and Value Sales, 52 w/e 23.03.19
2. The Nielsen Company, 52 w/e 23.02.19